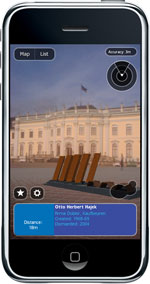 In fall 2009 Hoppala joined the second Layar Beta Developers Programm to work with the newly announced 3D features before they went public.
We created the next-to-you layer Outside Art 3D to showcase the 3D models in Augmented Reality space. Outside Art 3D lets you explore lost art installations in a new local context: they appear just right next to you, no matter where you are.
The screenshot shows some lost art of Otto Herbert Hajek. It was originally set up for J. Dobler GmbH in Kaufbeuren, Allgäu, Germany, in 1968-69 but dismantled in 2004. The photo was taken in front of the baroque castle in Ludwigsburg, South Germany.
In terms of 3D modeling we worked together with Visenso, Stuttgart.
Gallery
Visit the Hoppala Outside Art 3D gallery on Flickr.