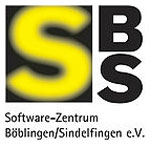 At today's "Softwarezentrum Snack"event I did a short introduction about the current state of Mobile Augmented Reality, markerbased AR and about some of the future developments like image recognition capabilities and glasses as AR devices. We also talked about the business aspect of Mobile Augmented Reality and I presented some of our recent projects like the Berlin Wall 3D. That one we even tried live. Playing around with it was a lot of fun. Read more…

Hoppala Augmentation provides an easy way for non-technical creatives to start experimenting with augmented reality and Layar. Create your own augmented reality experiences with just some mouse clicks and publish your work at Layar, the world's largest augmented reality platform.
Hoppala Augmentation comes with a full screen map interface to place and edit augments all around the world. Upload your images and icons, audio, video and 3D multimedia content with just some mouse clicks and add it to your personalized inventory in the cloud. Hoppala Augmentation even does the hosting for you. It simply runs in your browser, there's no software installation required and no coding needed at all.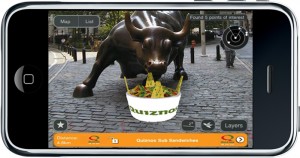 Hoppala together with our North-American partner Winvolve developed the world's first animated 3D layer for U.S. restaurant chain Quiznos. Quiznos is one of the premier quick service restaurant chains in the U.S. and pioneer of the toasted sandwich with more than 3000 stores all over the country.
Find restaurant locations nearby, enjoy mobile video and discover promotional animated 3D objects at various U.S. landmarks like the New York Stock Exchange bull on Wallstreet, the New York Yankee stadium or the Hollywood sign. Get a reduction on your next meal with mobile coupons. Read more…