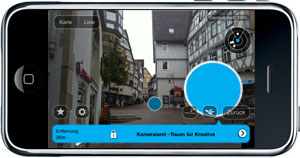 The Stuttgart Region Economic Development Corporation (WRS) published two more mobile augmented reality applications for regional industry cluster visualization today and proved professional usecases in mobile ar once again. Inspired by the great success of a very early Layar project back in summer 2009, the WRS decided to add creative industry and industry real estate data to the existing IT business information. With three mobile ar applications for Layar the Stuttgart Region Economic Development Corporation is one of the very early adopters of mobile ar in the professional business.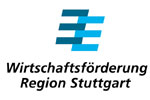 Dr. Walter Rogg, CEO of WRS, pointed out the future potential and significance of new communication technologies for regional businesses: "With these new mobile services we're again proving the Stuttgart Region as a place for innovation in media technology. It is very important for our regional high-tech companies, IT businesses and creatives to adopt new media technology at an early stage." Read more about this project here (german).
All Stuttgart Region Clusters applications for Layar run with Hoppala AR technology. Hoppala is based in the Stuttgart Region.
SWR4 radio interview
Listen to the interview with Helmuth Haag of WRS and Marc René Gardeya of Hoppala
about Stuttgart Region Clusters and possible future applications of mobile augmented reality in the Stuttgart Region. It was on air at regional public radio station SWR4.
Listen interview here.
Stuttgarter Zeitung, Oct, 26th, 2010
Gallery
Visit the Hoppala Stuttgart Region Clusters gallery on Flickr.