More than 200 CEOs, innovation managers and marketing strategists met at the 9th 2bAHEAD Innovation Think Tank at Schloss Oelber near Braunschweig, Germany, from 15.6.-16.6.2010, to discuss the most important trends of the next 10 years. It was a great honour to join a panel discussion about "Life in Augmented Realities – Entering the DATA Economy" together with Dale Herigstad, Chief Creative Officer at Schematic, Xavier Bringué, Vice President IPTV and Digital Home at Orange France Telecom Group and Carsten Kraus, CEO at Omikron.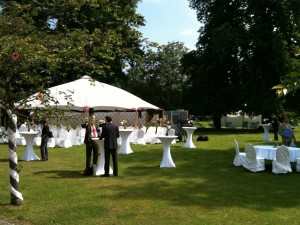 The organizers of the 9th 2bAHEAD ThinkTank beautifully decorated the wonderful gardens of Schloss Oelber with loosely distributed elegant tables inviting for vision talk with some coffee on a sunny early summer day. The general theme "How will we live and work in the year 2020?" inspired for open minds and profound discussions.
Dale Herigstad, who became very famous for his work on the futuristic screens in the movie "Minority Report" presented fascinating showcases about gesture and mind control interfaces. And the "Berlin Wall 3D" for Layar initiated a very active discussion about the future of mobile augmented reality. The panelists and most attendees agreed on our thesis about augmented reality becoming the emerging mass medium of the upcoming mobile age.
Part of the event was the nomination of Layar as the winner of the "Autovision Innovations Award" for the most innovative game changing business idea of the last 12 months. According to the jury Layar stands out due to its innovative approach and game changing potential in the mobile augmented reality industry.
I'm very honored to have received this award on behalf of Layar. It's great to see that AutoVision and the jury shares our common vision of an open platform for Mobile Augmented Reality. The whole Layar team did an amazing job the last couple months and created a great product.
2bAHEAD Think Tank was sponsored by AutoVision, the HR and innovations subsidiary of Volkswagen.