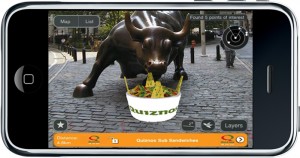 Hoppala together with our North-American partner Winvolve developed the world's first animated 3D layer for U.S. restaurant chain Quiznos. Quiznos is one of the premier quick service restaurant chains in the U.S. and pioneer of the toasted sandwich with more than 3000 stores all over the country.
Find restaurant locations nearby, enjoy mobile video and discover promotional animated 3D objects at various U.S. landmarks like the New York Stock Exchange bull on Wallstreet, the New York Yankee stadium or the Hollywood sign. Get a reduction on your next meal with mobile coupons.
The Quiznos layer runs on Hoppala layer server technology.
Gallery
Visit the Hoppala Quiznos animated 3D gallery on Flickr.